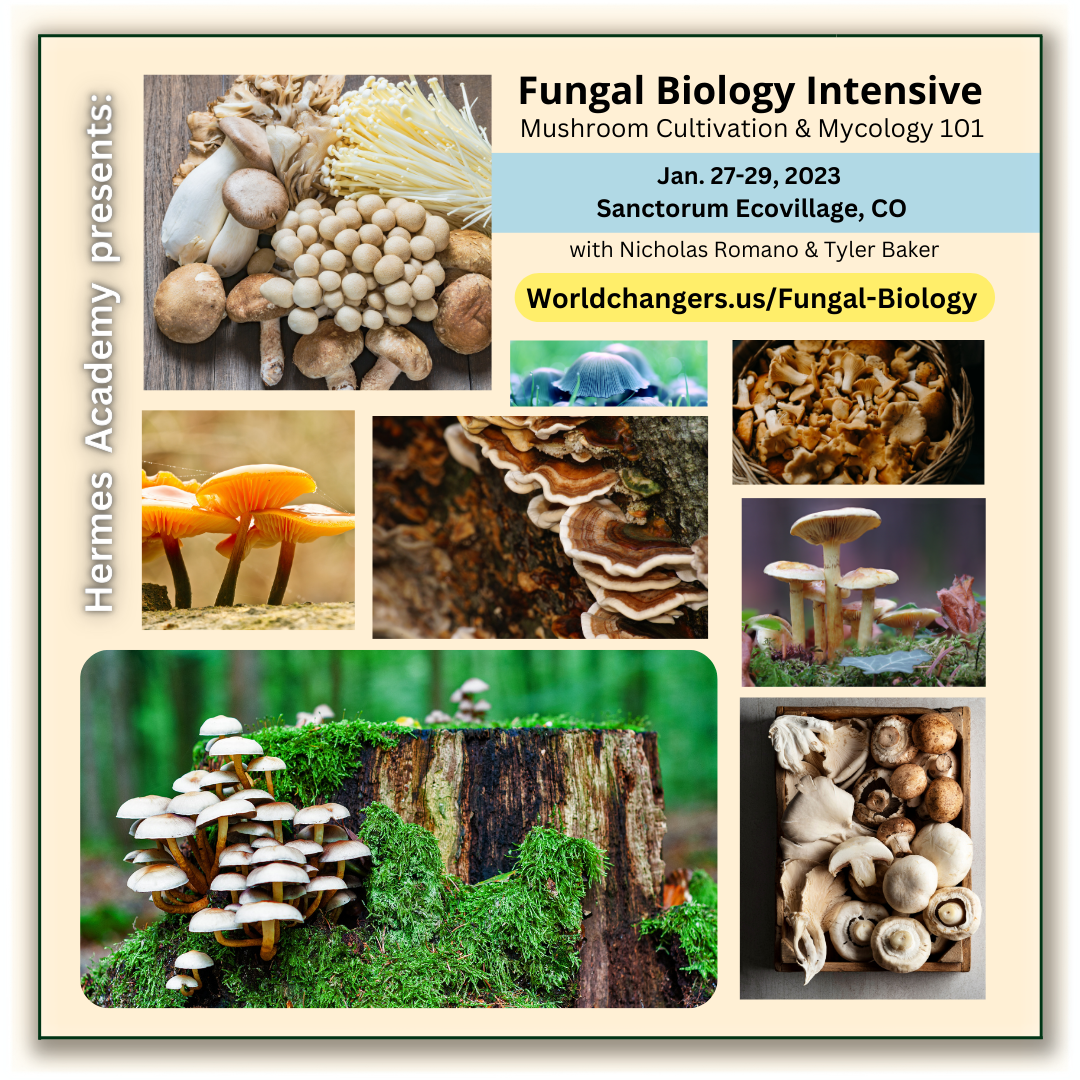 January 27-29, 2023
1170 E Ellicott Rd S, Calhan, CO 80808
Of course mushrooms help your farm grow better and your food taste better… But respected scientists seriously claim that mushrooms are also the key to saving the world! I guess that makes sense since they can clean oil spills, generate healthy soil, replace plastics and animal products like meat or leather, utterly transform the way that we build cities and skyscrapers and even change the way we think. 
Did you know that mushrooms are not plants? And yet not animals? They are a third and different type of organism — called fungi… and unlike other organisms they are able to survive in outer space and withstand its radiation? 
They work symbiotically with other organisms such as plants, by recycling decay and strengthening tree roots, which helped life transition from sea to land. Fungi can also prey on other organisms, such as some insects whose neural systems they hack so completely that they are able to literally control the physical movements of the animal and command its decisions. 
We now know that humans have indeed been intentionally cultivating mushrooms for various purposes over thousands of years — in ancient Egypt, Greece, Mexico — and perhaps around the world, from Algeria to Persia to Siberia. 
Join us on-campus for a highly enlightening Weekend Training Intensive with a Stanford University-trained Master of Fungal Biology (and dear friend of Sanctorum Ecovillage), Nicholas Romano — plus co-facilitator Tyler Baker — a professional scientist and expert industry-insider with many years of hands-on experience. 
Participants will walk away with an expanded awareness and experiential understanding of mushroom cultivation — from mycelium treatments for roots and soil to culinary mushroom farming operations… This workshop is also part of the ongoing launch of Hermes Academy and will include opportunities for further studies and certifications after completion.

In this 2-day workshop and lecture series we will demonstrate the principles and practices of cultivating edible mushrooms as well as dive into the rich biology of mushrooms & fungi. The weekend will consist of alternating lectures and hands-on workshops with subject matter including: the role of fungi in both natural and man-made environments, biomaterials made with fungi, mushroom cultivation techniques, and the necessary equipment as well. All attendees will practice cultivating mushrooms during the workshop component and take home their very own mushroom starter.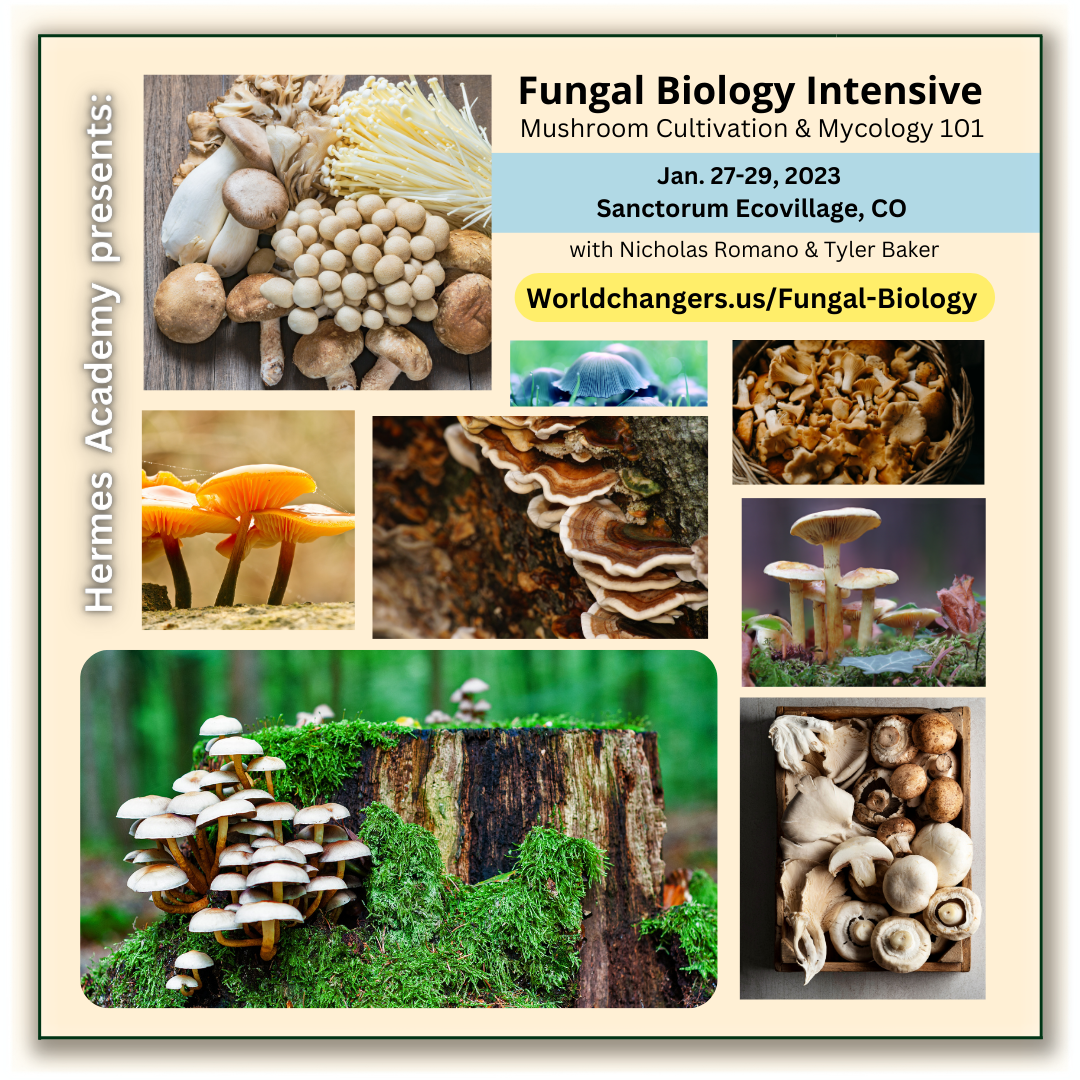 Workflow
Lecture

Intro to the workshop topic

The reason WHY we're doing these steps

Best high-level practices for these steps

Workshop

Teach the specifics of HOW to do these steps

Break

Repeat
Workshop topics
Sterile technique

Build your own equipment

Sterile hood

Incubator

Cooking/making/preparing:

Agar and pouring

Grain media

Rye grain

Bird seed

Fruiting substrate

Inoculating

Plates

Jars

Fruiting substrate

Lecture topics
Friday night Q&A

Introduction to fungi (brief overview of many topics)

What is a mushroom?

What are fungi?

Phylogeny of fungal kingdom

Uses of fungi in human society

Fungal diversity in nature

Fungi in Nature

Fungal diversity

Extremophiles

Soil fungi & ectomycorrhizae

Arbuscular mycorrhizal fungi (AM fungi)

Ectomycorrhizal fungi (EM fungi)

Endomycorrhizal Fungi

Chytridiomycota

Insect-parasitising fungi (Cordyceps etc.)

Biomaterials made with Fungi

Mycoworks, Mogu, Meati

Mushroom leather

Mushroom packaging

Food using fungi & mycelium

Industrial fermentation of Fungi

Overview of industry, logic behind it, and general concepts

Meati

Bioreactor design
What?
20 Hour Fungal Biology Intensive
When?
January 27 — 29
Friday (6-9pm): Introduction, Q&A.
Saturday (10am-2pm, 3:30pm-8:30pm): Extended study.
Morning session
(1 hr break)
Afternoon session
Sunday (10am-2pm, 3:30-5pm): Q&A, formal closing.
Where?
Sanctorum Ecovillage
1170 E Ellicott Rd S, Calhan, CO 80808
Cost of attendance?
Suggested donation: $140; no one turned away for lack of funds. Contact us for assistance.
* Registration includes a $50 non-refundable deposit.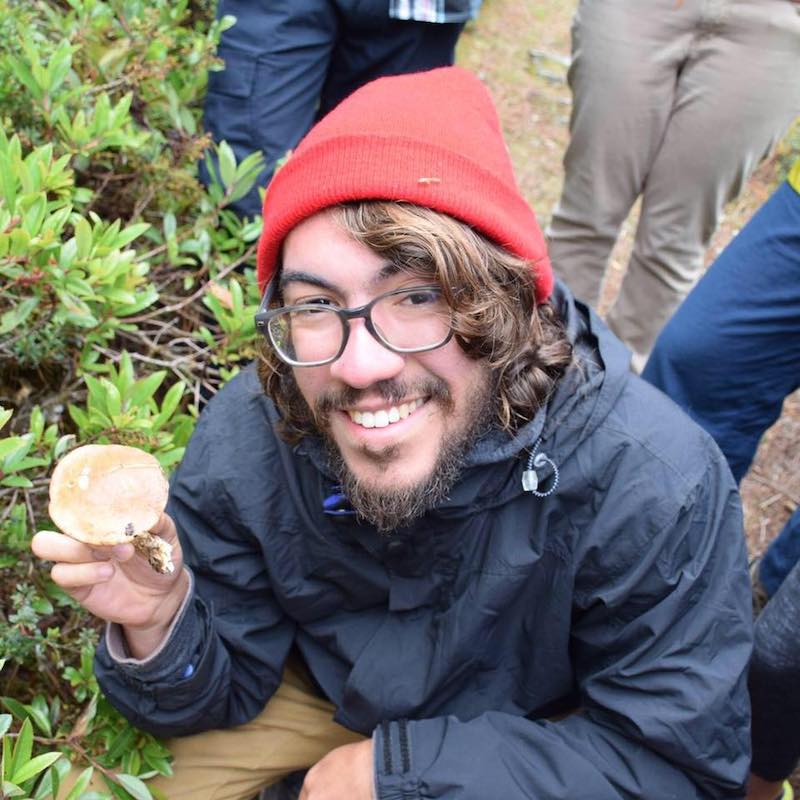 Nicholas Romano:
Nicholas Romano is an industrial mycologist and has been working with mushrooms & fungi for over 8 years. He graduated from Stanford University with a Masters of Science in Earth Systems and a focus on fungal ecology. Since then, he has worked at Mycoworks, a biotechnology company producing 'fine mycelium-' a type of alternative leather made from the ganoderma fungi. Currently Nic is employed as a fungal biologist at Meati Foods where he supports the production of alternative meat made from fungi grown through liquid fermentation. In his free time Nic is known to frequent hot springs, hunt & eat wild mushrooms, share music, and bake fresh bread.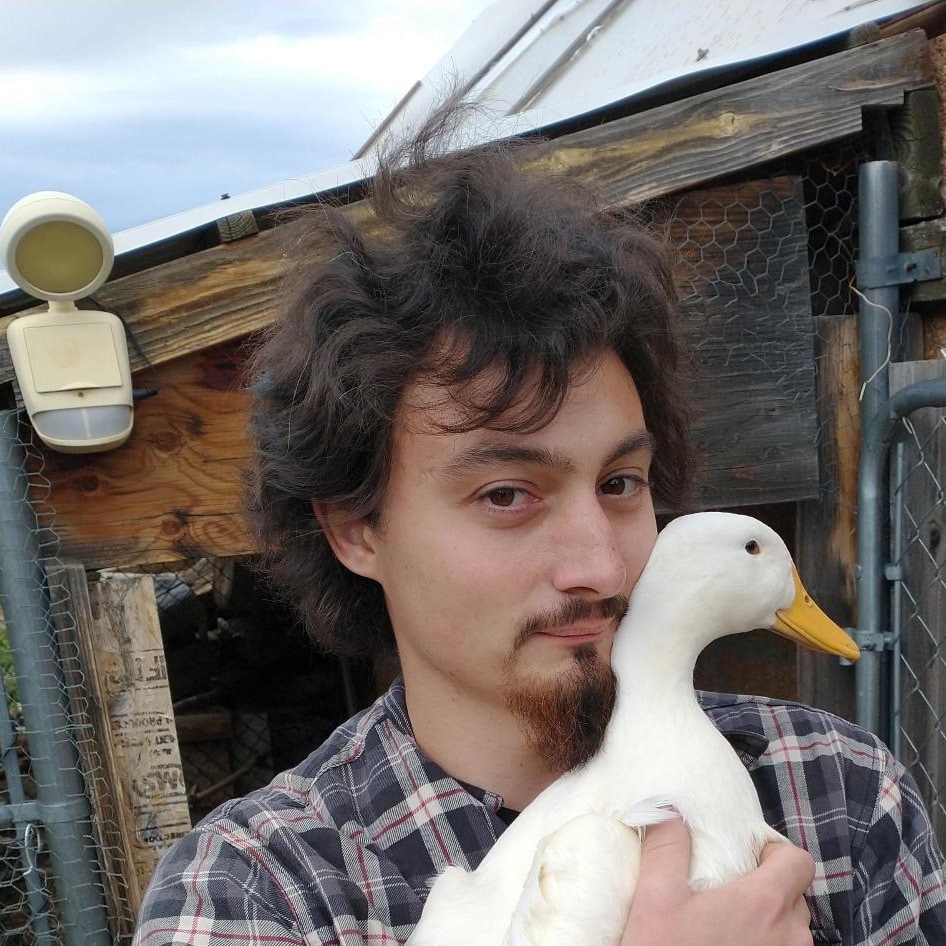 Tyler Baker:
Tyler Baker is a fermentation scientist that graduated in 2019 with a bachelor's degree in chemical engineering. Since then, he has been designing experiments and growing fungi in new and experimental ways for a fungi-based protein company known as Meati Foods. Baker has been designing and making equipment for his projects since childhood and has been building and perfecting his own mycology equipment for the past 3 years. He has recently been building a closed ecosystem inside a paludarium using strategic introductions of various plants, fungi, and small animals.
If you prefer to avoid Eventbrite fees, you may register here: